The NJ Palisades Guide app is available for iPhone & Android!
---
---
Open / Closed in the Park:
Updated: November 20, 2017 (subject to change without notice).

Check the Parkway Police Twitter feed for emergency updates on roads and other conditions in the Palisades Interstate Park in New Jersey.
Englewood Picnic Area is a scenic riverfront picnic area in Englewood Cliffs, New Jersey (directions) adjacent to Englewood Boat Basin. Grounds are open year-round, daylight hours. (Restrooms may be closed in winter.) From May through September a parking fee of $5 is charged (cash only).

GPS: 40.875925, -73.946678
For current hours of operation at Englewood Picnic Area, please check the sidebar >

Parking fees at picnic areas are collected from Memorial Day Weekend to Labor Day Weekend. Weekday collection is from 9:30 AM to 5:30 PM. Weekend collection is from 9:00 AM to 6:00 PM. Holiday weekend collection is from 8:30 AM to 6:30 PM. Click here for answers to Frequently Asked Questions (FAQs) about our picnic areas.
The picnic area features picnic tables, some grills (visitors are permitted to bring their own), a small children's playground, restrooms, water, and waste receptacles, as well as access to fishing and crabbing, and access to our trail system.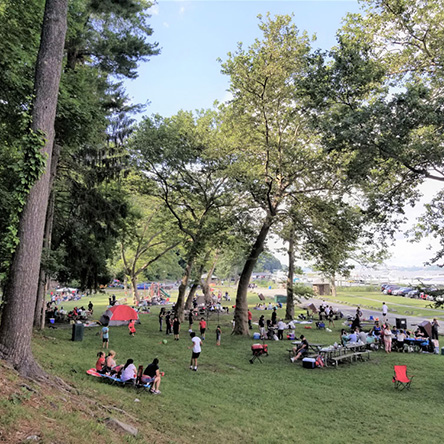 "The Snack Shack" by the entrance to Englewood Picnic Area & Boat Basin offers a lunch, brunch, and snack menu during warm-weather months (closed November through April). Regular parking fee applies for Snack Shack customers.
You can visit the Snack Shack on Facebook.
"Bloomer's Beach" at the north end of the picnic area can be used for car-top boat launching.

GPS: 40.881206, -73.944894
Englewood Boat Basin is adjacent to Englewood Picnic Area. (Access to the boat basin is limited to boat owners renting slips at the basin and their guests. Boat rentals are not available.)
Click to download an advisory for park visitors (about ticks, poison ivy, and other concerns) and to download our picnic policy.
---
Click to download a map keyed to a hike description that starts and ends at Englewood Picnic Area.

"Carpenter's Loop" | Moderate | About 5.5 mi., 2.5 hrs. round-trip (with an opportunity to shorten by about half).
---
The Englewood Area in history...
The northern part of Englewood Picnic Area is still called "Bloomer's Beach," from the Bloomer family, who lived in the area during the 1800s.
The Dyckman Ferry used to land at the southern end of the Englewood Picnic Area & Boat Basin, until it was discontinued in 1942 due to competition from the George Washington Bridge (the Bridge opened in 1931). A bathing beach that operated at the Bloomer's section was also closed around that time. The old stone bath house was built by the Civil Works Administration and the New Jersey Emergency Relief Administration in 1934.
The ferry landing, in turn, was originally the site of a steamboat landing built by the owners of the Palisades Mountain House, a resort hotel on the summit, in the 1870s. Dyckman Hill Road was also first built for the Mountain House, though it was improved by the park in the early 1900s.
---
Virtual Tour of Englewood Picnic Area